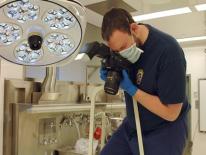 OCME's Academic Affiliations
University of the District of Columbia - Mortuary Science, Washington, DC
George Washington University, Washington, DC
Georgetown University, Washington, DC
American University, Washington, DC
Rochester Institute of Technology, Rochester NY
Arcadia University, Glenside PA
How to Become a Medical Examiner
A Forensic Pathologist practices the subspecialty of forensic pathology that focuses on the medicolegal investigation of sudden unexpected death or traumatic deaths. The following qualifications are required to become a forensic pathologist:
Bachelors degree BS/BA
Doctor of Medicine (MD/DO) degree
Four (4) or five (5) years of residency (four (4) for anatomic pathology residency, or five (5) for combined anatomic/ clinical pathology residency) (to become eligible to take the Board examination in pathology – eligibility is time limited)
One (1) or two (2) years of forensic pathology fellowship (to be eligible to take the subspecialty Board examination in forensic pathology – eligibility is time limited).
Internship Program
The DC Office of the Chief Medical Examiner offers limited unpaid internship opportunities to interested students in graduate or undergraduate programs in death investigation, pathology, toxicology or related sciences. Each request will be evaluated and a response will be sent 15 days after receipt. Acceptance for internship is at the discretion of the Chief Medical Examiner (CME).
The Dean or Director of the Program should send a written request on behalf of the student. The request should be on a letterhead and should include the following:
Student name
Year of study
Confirmation of good standing status
Purpose of the internship including objective and goals to be achieved
Proof of liability insurance from the sponsoring entity
Health and immunization status which includes (physical examination), current TB test results, current Hepatitis B test results, and Mask fit test documentation
Forward the letter to: Office of the Chief Medical Examiner Attn: Andrea Pugh 401 E Street, S.W. 5th Floor Washington, DC 20024
Scientific Presentations
[PDF] This document is presented in Portable Document Format (PDF). A PDF reader is required for viewing. Download a PDF Reader or learn more about PDFs.