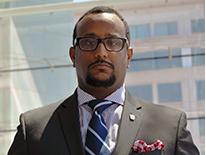 Dr. Roger Mitchell Jr. is board certified in Anatomic and Forensic Pathology by the American Board of Pathology. He is a Fellow with the American Society of Clinical Pathology (ASCP) and the National Association of Medical Examiners (NAME). Dr. Mitchell sits on national subcommittees for NAME including Education & Planning and Strategic Planning.
He is a graduate of Howard University, Washington DC, and UMDNJ-New Jersey Medical School, Newark, NJ. Dr. Mitchell is licensed to practice medicine in New Jersey and Washington DC. He has performed over 1300 autopsy examinations in his career and has testified as an expert on numerous cases.
He began the study of forensic science and violence prevention as a Forensic Biologist for the Federal Bureau of Investigation (FBI) – DNA Unit in January 1997 at the FBI Headquarters Building.
Dr. Mitchell served 4 years as the Assistant Deputy Chief Medical Examiner, in charge of Medicolegal Death Investigations, at the Harris County Institute of Forensic Sciences prior to serving 2 years as the Regional Medical Examiner for the Northern Regional Medical Examiner Office in Newark, NJ. Dr. Mitchell has served in large cities such as New York City, Houston, and Newark, NJ.
Dr. Mitchell has great interest in violence as a public health issue. He believes the medical examiner serves a critical role in public health prevention initiatives and continues to be at the forefront of issues relating to Elder Abuse & Neglect and Youth Violence. He is recently published for his work on "Forensic Markers Associated with a History of Elder Mistreatment and Self Neglect" in the Academic Forensic Pathology journal.
He is also well versed in Mass Fatality Management and pledges his commitment to the preparedness of Washington DC.
Dr. Mitchell is no "new comer" to the District. In addition to receiving his undergraduate degree in biology from Howard University, Dr. Mitchell performed his pathology residency at George Washington University Hospital where he served as Chief Resident.
Dr. Roger A. Mitchell Jr. is dedicated to the service of our community and is excited to serve our nation's capital as its next Chief Medical Examiner.
He is married to a DC native and has three wonderful children.