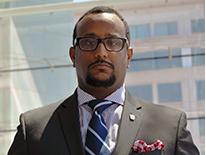 Dr. Roger Mitchell Jr. is board certified in Anatomic and Forensic Pathology by the American Board of Pathology and a Fellow with the National Association of Medical Examiners (NAME). Dr. Mitchell sits on national subcommittees for NAME including Education & Planning, Strategic Planning, and is the Immediate Past Chair for the Deaths in Custody Subcommittee. Dr. Mitchell has recently served as the National Co-Chair for the National Medical Associations (NMA) Working Group on Gun Violence and Police Use of Force.
He is a graduate of Howard University, Washington DC, and New Jersey Medical School, Newark, NJ. Dr. Mitchell is licensed to practice medicine in Washington DC. He has performed over 1300 autopsy examinations in his career and has testified as an expert on numerous cases.
He began the study of forensic science and violence prevention as a Forensic Biologist for the Federal Bureau of Investigation (FBI) – DNA Unit in January 1997.
As the Chief Medical Examiner of a major city, Dr. Mitchell is uniquely positioned to understand the social determinants that lead to the violence affecting our most vulnerable communities. He has a great interest in Violence as a public health issue and has recently co-authored position papers on The Violence Epidemic in the African American Community for the National Medical Association (NMA) and the Definition, Investigation, Postmortem Examination and Reporting of Deaths in Custody for the National Association of Medical Examiners (NAME).
Dr. Mitchell recently served on the Forensic Science Standards Board (FSSB) for the National Institute of Science and Technology (NIST). He is sought after for his expertise on violence, death investigation, mass fatality management, has lectured for the Governments of Egypt, Bangladesh, and the International Coroners Conference in London, England.
Lastly, Dr. Roger A. Mitchell Jr. is a licensed minister serving as a mentor in his local community. Dr. Mitchell often shares how drugs and violence have shaped his own life. He is a husband to his wife of 15 years and a father to his three children. Dr. Mitchell has pledged his professional career and personal time to the service of others.