OCME Presents the 2016 Annual Report
This Annual Report covers data that resulted from the investigation of 5,765 deaths that occurred in the District of Columbia (DC) during the Calendar Year (CY) 2016.
Child Fatality Review Committee 2016 Annual Report
The Child Fatality Review Committee (CFRC) is pleased to present the 21st Annual Child Fatality Review Report covering statistical data from the 38 child/youth fatalities that were reviewed during calendar year 2016.
Office of the Chief Medical Examiner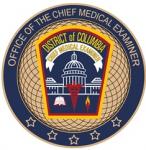 Office Hours
M - F, 8 am - 4:30 pm, except holidays, Next-of-kin ID 10 am - 4:30 pm. Funeral Dir. 9 am - 6 pm.
Connect With Us
401 E Street, SW , Washington, DC 20024
Phone: (202) 698-9000
Fax: (202) 698-9101
TTY: (202) 442-8797
Email:
[email protected]
Agency Performance